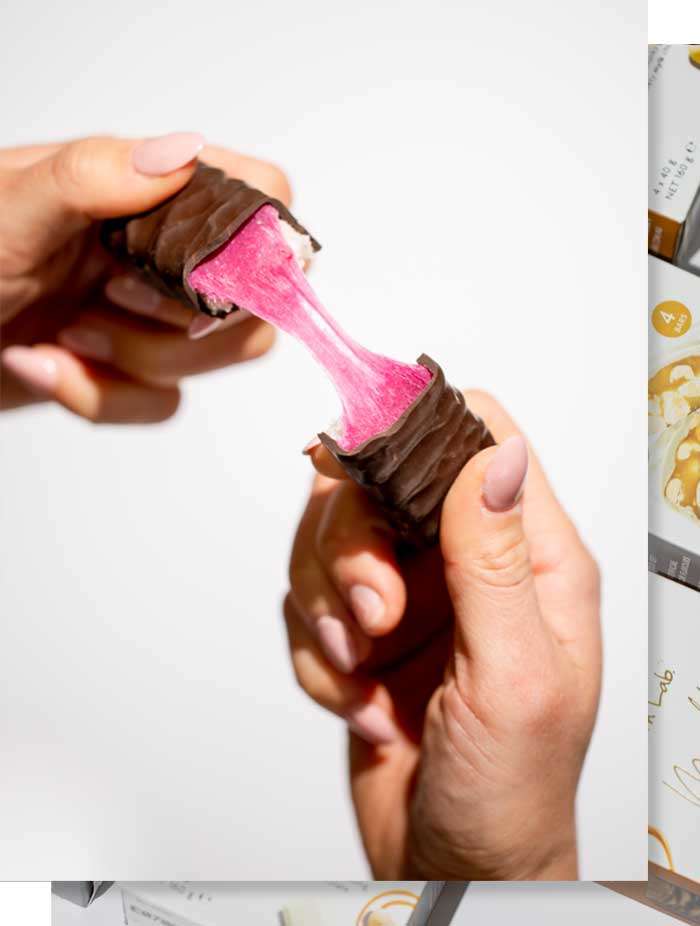 Hi! We're Health Lab.
FEMALE-FOUNDED BY JESS THOMAS.
"The story began when Jess Thomas was on the quest for an everyday indulgence snack; a snack with clean, plant-based ingredients but that would actually satisfy her daily 3pm sugar cravings.
Driven by the belief that pure plant-based ingredients could deliver a mind-blowing indulgent snacking experience, she decided she would create her own. Jess quit her corporate career, sold her Toyota Corolla for cash, and started hand-rolling raw health balls from her home kitchen…"
Female-founded, 100% Australian made and owned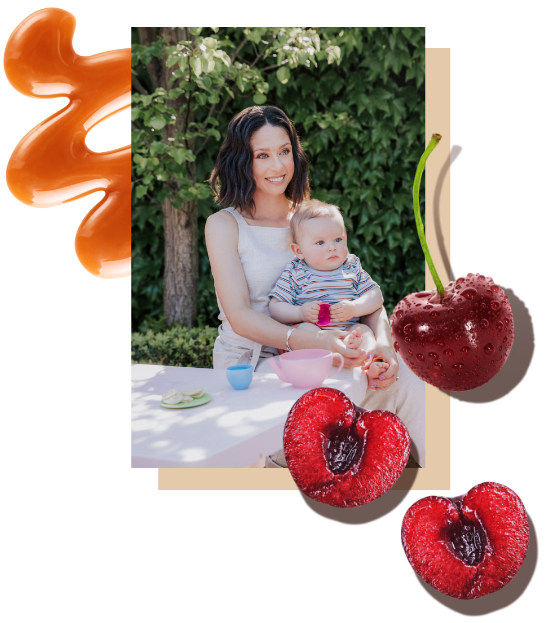 Favourites reimagined.
Health Lab taps into that sense of nostalgia that indulgence evokes, and the freedom that comes with embracing a life without restriction, guilt or self-doubt. We are part of a health movement that is moving away from deprivation and guilt, and towards celebrating balance & pleasure. It's about snacking with intention, eating cake on your birthday, and a health philosophy centred on balance, self-love and happiness.
We want to provide our loyal community with plant-based snacking options that not only deliver on health, but are also bursting with indulgence. So no matter whether it's 11am, 3pm or midnight, our health snacks give you the freedom to indulge, everyday without regrets or sacrifice.
Our snacks are designed for those craving more balance and small daily moments of bliss.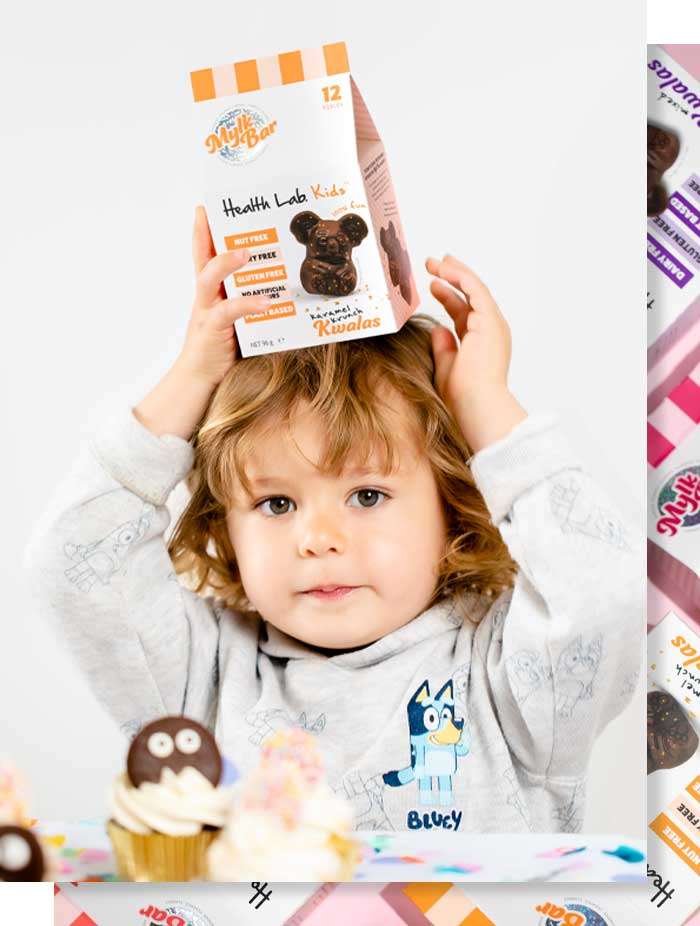 We are (also) Health Lab Kids™
We've reimagined iconic milkbar classics to be plant-based AND allergen friendlier, allowing more kids to participate in the fun!
Health Lab Kids™ is here to ensure allergies and hidden nasties don't sideline any of our little ones from enjoying the fun times of being a kid and all the yummy treats (and occasional bribes) that come with it.
Our 100% plant-based crowd pleasers have off-loaded the not-so-good stuff; artificial colours, artificial flavours, glazing agents, gluten, palm oil, preservatives, numbers, chemicals and animal-based ingredients... to ensure they're a zillion times better.
A wave of nostalgia coming your way!
Things we know:
What's yours is theirs.
What's theirs is theirs.
"Treats are a magical part of childhood celebrations, milestones and fun!
As a parent with two little ones with dairy and gluten allergies, I was inspired to create premium, more natural and allergen-friendly treats that included more kids in the fun!"
- Jess, Health Lab Founder & Tantrum-Tamer.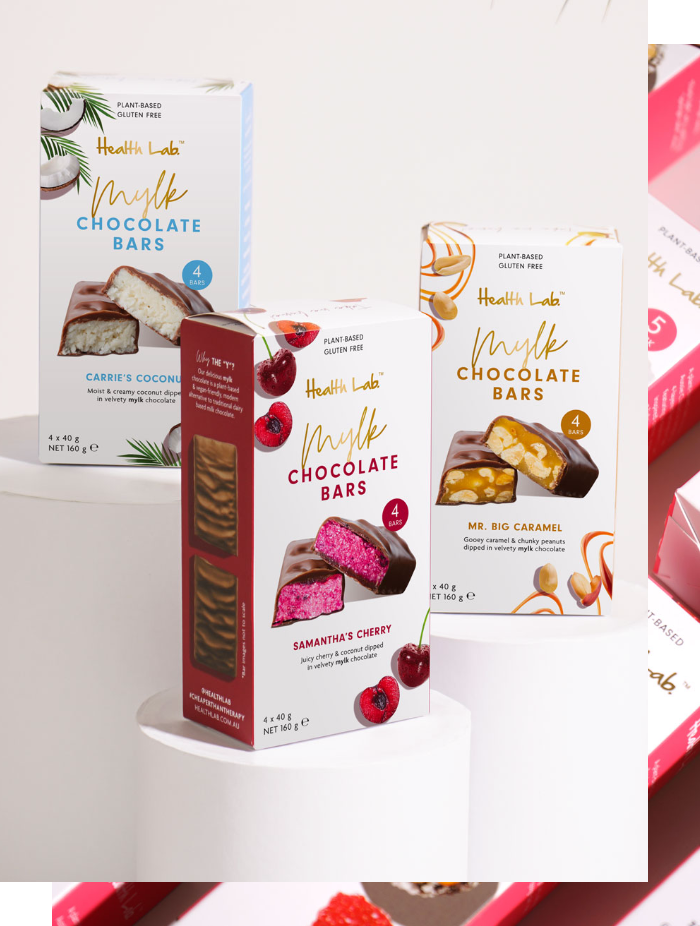 FULL OF THE GOOD STUFF. NO MONKEY BUSINESS.
We are here to elevate your snacking game one plant-based, gluten-free, dairy-free, preservative free, palm oil free snack at a time. We've gone the extra mile to ensure that our ingredients are the best for you and our planet by prioritising organic where possible, sourcing ingredients from their native locations and never including animal based ingredients. What's important to you, is important to us.
WE MAKE INDULGENCE, ALL NATURAL.
Preservatives? No way.
Artifical sweeteners and fillers? Not a chance.
Palm oil? NO WAY JOSÈ!
We don't support any monkey business here at Health Lab. We believe in using only the BEST ingredients with no shortcuts, no fake stuff and definitely none of those mumbo-jumbo "how do I even pronouce that" kind of ingredients. You deserve to indulge on the finest, cleanest & guilt-free snacks which care for the planet as much as they care for your insides and tastebuds.
Striving for a better world, one bite at a time.
OUR PLANET IS WHAT WE ALL HAVE IN COMMON.
Our mission is to inspire positive change for people & the planet. We're not perfect but day by day, we are getting closer! We are hard at work to always find the most sustainable solutions to keep our footprint small and our flavours LARGE.
All of our packaging is made right here in Australia and can all be recycled. Our wrappers (even the gold ones) are all part of the Red Cycle program which means you can take them, along with all soft plastics, to a designated Red Cycle waste basket which can be found at most major supermarkets. This waste program uses soft plastics to create new products including (but not limited to) indoor and outdoor furniture. Cool, huh?
Our cardboard packaging is 100% recyclable and also FSC certified, which ensures it is sourced from forests which are independently managed according to rigorous social and environmental sustainability standards.
We've combined forces with NatureFlex™ Next Generation Packaging to create the 'plastic-like' film within our Health Lab Kids™ MylkBar Classics range. This film is derived from readily renewable cellulose found in wood pulp. NatureFlex™ film is sourced from responsibly managed plantations and is certified for industrial and home composting with a 8-12 week breakdown period.
High on rotation
Jess' top picks